Happy Fat Tuesday! For those of you who are unfamiliar, Fat Tuesday is the day before Ash Wednesday, which marks the beginning of the Lenten season. It is often celebrated by consuming large amounts of rich and fattening foods before the start of the season of fasting. Sign me up!
The arrival of Fat Tuesday always reminds me that I am going to have to come up with meatless meals for my Catholic family every Friday from now until Easter. It's really not that difficult - between the pizza, pasta, eggs, tuna salad, and hitting the local fish fry, there are enough meatless options to get us through the six weeks without getting bored. Occasionally, I like to try something a little different, like this shrimp chowder. This tasty shrimp chowder isn't your usual Lent dinner, and it's so easy to make. Don't be put off by the fact that this recipe contains canned soup. I rarely make recipes with canned soup, and usually don't care for the taste when I do. This one is different. It's really tasty. I think that coking the shrimp in the soup and adding the milk and cheese make it better. I got the recipe from an old issue of Southern Living, so you can rest assured that it's a good one.
INGREDIENTS
2 tablespoons

butter or margarine

1

medium onion, chopped

(I use frozen to save time)

2

(10 3/4-ounce) cans cream of potato soup, undiluted

1/4 teaspoon

ground red pepper

(I don't use this because the kids don't like spicy. I'm sure I would add a nice heat)

1 1/2 pounds

medium-size fresh shrimp, peeled

1 cup

(4 ounces) shredded Monterey Jack cheese

Garnish: chopped fresh parsley (I use dried, but fresh would be even better)
Does anyone else use these onions? They are one of my favorite time savers. I almost never chop onions to use in cooked dishes anymore. I still chop them when the recipe is cold, like chicken salad.
DIRECTIONS
Melt butter in a Dutch oven over medium heat; add onion, and sauté 8 minutes or until tender. Stir in cream of potato soup, milk, and pepper; bring to a boil. Add shrimp; reduce heat, and simmer, stirring often, 5 minutes or just until shrimp turn pink. Stir in cheese until melted. Garnish, if desired. Serve immediately. Serve with oyster crackers, if desired.
Add some green apples and some crusty French bread, and you've got a hearty yet meatless meal.
Here's the photo that appeared in Southern Living magazine. I think they may have added some extra shrimp for the sake of the photo.
Does your family have a favorite meatless meal? I'm looking for some interesting new ideas. I'd love to hear any suggestions you have.
Linking To: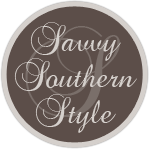 http://www.savvysouthernstyle.net/