Good morning everyone! If you have the winter blues, you are in for a major treat from my dear friend, Desiree of the chic blog,
Chic Coastal Living
. Desiree is
the
preeminent expert in my book on stylish coastal living (can I just tell you, she is getting ready to run a 20 mile marathon this month) and lucky her..she lives in Florida and has a front row seat to living under the sun year round!
I love this post and its like a breath of fresh air, since we are in throes of the dark and gloomy month of January and its raging winter blues. I make no secret of my love for blue and white and this post delivers big time. I love Desiree's effortless style and her first hand reporting on chic coastal living, dressing and entertaining. Be sure to stop by and say hello over at her blog by clicking
here
..I promise you too will want to make it a regular stop as I do every morning. Desiree, thank you for this wonderful post, and thanks everyone for stopping in!
Thank you Tina for inviting me over to
The Enchanted Home
to share what I'm loving now with your chic readers! It's always a pleasure to be in good company and who better in blogland than to be at
your place
!
I've always loved blue and white and with spring just around the corner, one tiny little aspect of my life, is being inspired to add a little blue and white during this time of year. It reminds me of the beach and that's where I want to be most of the time...
This living room is from the Coastal Living Ultimate Beach House 2011. I love the ceiling and the use of weathered wood. Of course the pops of blue and white make it one incredible beach home!
Can you recognize this ultimate beach living room? Yes, you're right it's from Something's Gotta Give! Tina and I are addicted to this movie and have watched it probably hundreds of times! Okay... maybe I'm exxagerating a little or maybe not....If I could, I would re-create this exact room in my home and never tire of it!
Coastal Living's Ultimate Beach House 2011 dining area....love, love this room! The white, the table, the photo collage on the wall. All perfect!
Love this spacious beach living room! It's perfect for my whole clan and the linen sofa and chairs are gorgeous!
This white room with bits of yellow here and there are perfect for a super casual beach house.
I love this well organized super-chic kitchen and the lighting is gorgeous!
I want this bedding, oh and the bed and the rug and the bedside lamp....
If I had a guest room, this would be my choice...blue and white patterned bedding.
I think every beach house needs to have these dishes...don't you agree?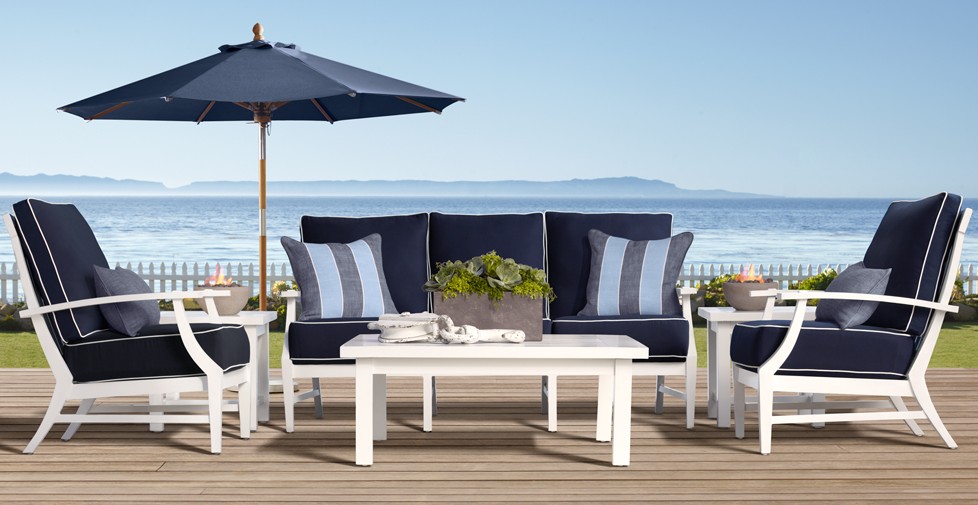 Restoration Hardware always has great choices for outdoor seating and perfect nautical blue striped pillows.
Blue towels and bathrugs are easy ways to add a little blue in your life. These from, Williams Sonoma Home, are always on my shopping list in January.
This living room designed by
Victoria Hagan
is one of my all time favorite Hamptons living rooms. I love the fact that you can sit and chat with your family and friends in a
stylish
cozy area.
Here's my wish list of things blue and beachy!
What a surprise! I also love to wear blue!
Here are a few chic looks that I'm loving now!
No. 2 pencil Skirt in Double-Serge Cotton
Featherweight Cashmere Cardigan
Drea Peep-Toe Patent Pumps
Thank you Tina for the invite! This was so much fun for me to put a few things together that are blue, white and beachy!
Desiree
Pretty great, don't you think? I feel more relaxed just having looked at this scrumptious post that makes me want to exhale and head to the beach! The vibe is so clean, fresh and elegant. Love it Desiree..thank you again! Click
here
to visit Desiree at Chic Coastal Living. Wishing everyone a fabulous day.